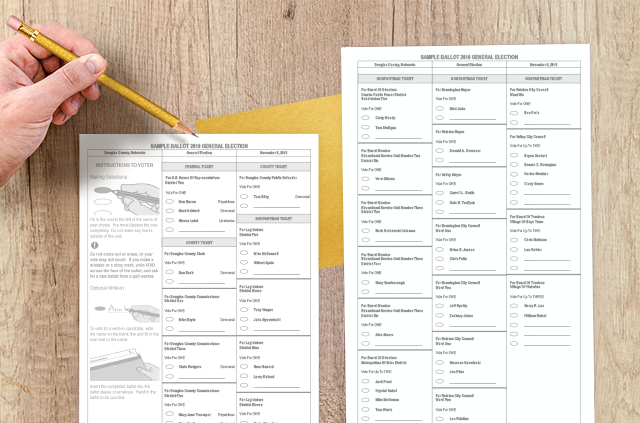 Vote Early by Mail This Primary!
Election 2020
NOTE: Now that May 1st has passed, requesting to vote by mail is no longer available BUT you can still vote informed (using www.voterinformation.org) live at your polling place. Some polling places have changed. You can find your polling place using the Nebraska Secretary of State Voter Check site.
On Thursday, March 19th, Kathy Holkeboer, our Executive Director, attended the regular monthly Stakeholders meeting for Douglas County Election Commissioner's office. The topic was anything but regular, with the current virus concerns taking center stage.
The key takeaway was: VOTE EARLY BY MAIL for the Primary! And submit your request RIGHT AWAY!* Jump to the end of this article for links to request forms for our target counties and a few more of Nebraska's more populated counties.**
Why is this so important?
Many poll workers are at higher risk medically, so they may need to have fewer polling places open.

Social distancing measures may complicate and lengthen the process for those voting in person at the polls.

Processing incoming requests and printing and sending ballots requires significant planning and preparation.

The county will need to plan for staffing to handle incoming ballots. Like in a polling place, both a Republican and a Democrat must be present for each envelope. The signature is verified as well.
A few things to know about early voting by mail
Here's a diagram of how it works from the voter's perspective:
Tips & Timing
Start Now! Scroll down for links to obtain request forms.
(Requests must be in by May 1, but sooner is better)

Ballot should arrive soon after the county mails them, starting April 6th.

Don't just vote--vote informed! Click the VIP logo at the top of this page to check out candidate, judge, and ballot info on our site.

Mail ballot back by May 8, so it arrives by May 11.
What is Voter Information Project doing?
As many of you know, Voter Information Project www.voterinformation.org provides access to candidate responses to questions that help you decide how you'd like to fill out your ballot. We also report attempts to connect with candidates.
In many ways, we are doing business as usual, reaching out to candidates to respond to questions online at their earliest opportunity, but with an added level of urgency. In light of the anticipated increase in early voting, we are targeting April 6 for candidates to have their responses in, since that's the earliest date ballots will be mailed.
We do have candidate responses coming in for the Primary. Click here to see a race where all the candidates have answered. https://www.voterinformation.org/races/primary-2020/cass-county-commissioner-district-4/
* NOTE: Douglas County expects to send out yellow postcards to prompt voters by mail, but still ask that those that can act sooner, please do so.
** Another NOTE: The original request came from the Douglas County Election Commissioner, but we can assume other counties will likely face similar staff shortages, plus many of you in other counties will prefer to vote by mail as well.

Buffalo County Cass County Douglas County Hall County Lancaster County
Lincoln County Madison County Sarpy County Saunders County
The Nebraska Early Voting Ballot Application for all counties
Address to use for
Dodge County: 435 N Park Fremont, NE 68025
Scotts Bluff County: 1825 10th Street Gering, NE 69341
Seward County: 529 Seward St Seward, NE 68434
Washington County: 1555 Colfax Street, Blair, NE 68008